Pakistan Day 2022 / 23rd March Pakistan Resolution Day 2022
23rd March Pakistan Resolution Day 2022
Pakistan Resolution day 2022 is a public holiday which is celebrated to recall the achievements and efforts of our forefathers. Pakistan Day is celebrated to remember Pakistan's independence from British rule and the enactment of the National Constitution in 1956.
Pakistan Resolution Day 23rd March (Wednesday) 2022
On 23rd March Pakistan Resolution day 2022, Pakistan has been declared as the first Islamic Republic Country in the world. The annual celebration of Pakistan Day is held on March 23 and the Pakistani government has declared this day as a national holiday. This Day is marked by a parade of national pride and celebration of patriotism.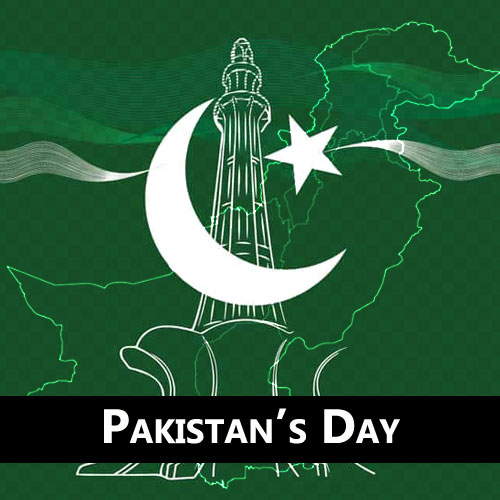 The Islamic struggle for independence from British rule began in 1857. The British Company's rule did not take into account the social and political needs of Muslims. However, the Muslim philosopher and poet Allama Muhammad Iqbal did not propose the formation of an independent Islamic state until the meeting of the Muslim League in 1930.
The call for Pakistan's independence from British rule was officially made when Muslim League passed a political resolution on March 23, 1940, known as the Lahore Resolution. British India The resolution eventually called for the independent and sovereign state of Pakistan, consisting of Muslim-majority British territories.
Muhammad Ali Jinnah was leading the Muslim League. Many respected Founding Fathers ratified the Lahore Resolution of 1940, which did not actually mention Pakistan. These leaders wanted to get an independent homeland consisting of independent and sovereign provinces where Muslims are in majority.
Pakistan officially became a constitutional monarchy on August 14, 1947 when India gained its independence from British rule. George VI was declared head of state and Muhammad Ali Jinnah was appointed governor-general of Pakistan.
The name Pakistan was originally suggested by Chaudhry Rehmat Ali in a 1933 proclamation. Although many political leaders sought to promote an independent state consisting of Muslim and Hindu majority regions, a number of factors ultimately prevented the formation of a religiously diverse political state . Pakistan became the first Islamic republic on March 23, 1956, when Pakistan enacted a national constitution and transitioned into a republic. Since then, Pakistan Day has been celebrated as a national holiday.
Celebrating Pakistan Day 2022
Early in the morning, a combined military and civilian parade usually passes through the streets of Islamabad, with spectators bragging about their homeland. The joint military parade is broadcast live across the country. The Pakistani President chairs the Pakistan Day Parade, which is attended by Pakistani and foreign dignitaries.
After the parade, the President presents decorations and awards to the elected dignitaries, and lays a wreath at the tomb of Muhammad Ali Jinnah and Sir Allama Muhammad Iqbal, founders of Pakistan. Sir Allama Muhammad Iqbal was a famous lawyer, researcher and poet. He is not only known as the poet in many countries but he is also famous for presenting the concept of two different nations in subcontinent.
Pakistan Day, also known as Republic Day, is celebrated everywhere in cities and towns across Pakistan. The Pakistani national flag is prominently displayed. The roar of 31 cannon salutes can be heard in Islamabad, and the salute of 21 cannons can be heard in every provincial capital. Most business and transportation facilities are closed due to the Pakistan Resolution Day 2022 holiday. Like Independence Day celebrations everywhere, family and friends enjoy some well-deserved rest and relaxation. Local leisure facilities are popular attractions, and the scent of holiday food attracts adults and children alike. March 23 is a day of enthusiasm, colorful decorations and national unity.