Eid Milad un Nabi 2022 Date
Eid Milad un Nabi 2022
Eid Milad-ul-Nabi 2022 the 'Birthday of the Holy Prophet (P.B.U.H). The Prophet's birthday, is celebrated in the Islamic world on the twelfth day of Rabi 'al-Awwal.
This day is an annual celebration commemorating the birth of the Prophet Muhammad (P.B.U.H) and is celebrated in the month of Rabi al-Awwal, the third month of the Islamic lunar calendar, that begins with the sighting of the moon. The occasion also marks the death anniversary of the Holy Prophet (P.B.U.H).
The Sunni Muslim (majority) celebrates the birth of the Prophet of Islam on 12 Rabi-ul-Awal, while the Shia (minority) celebrates on 17th of Rabi-ul-Awal.
Eid Milad un Nabi 2022 Date 9 Oct 2022 (Sunday)
The concept of "Milad" goes back to the early days of Islam when people gathered at some place to read poetry and sang verses in honor of the Prophet Muhammad. The life and teachings of the Holy Prophet, as mentioned in the hadith, continue to influence the believers. On this day Muslims remember, discuss and celebrate the biography of the Holy Prophet. People perform night prayers and send electronic Milad Un Nabi 2022 cards to friends and family!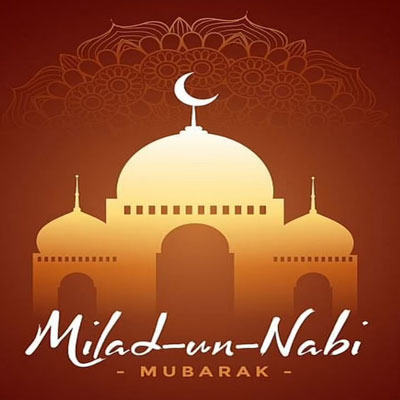 In Pakistan, monuments and streets are illuminated on this occasion, while prayers and special religious events are organized in homes and mosques to commemorate the teachings of the Holy Prophet Muhammad (P.B.U.H).
Special forums on the life and teachings of the Prophet Muhammad, and award-winning Qur'an recitation competitions are held at this occasion. Families also eat together at home, and many give food, money and other gifts to the poor and needy.
On this day, the government had declared a public holiday which means a complete holiday across all over Pakistan. All government offices get closed on this day.
In the eleventh century, Eid-Milad-al-Nabi 2022 became more popular and was first celebrated as a public holiday in Egypt. During this period, only Shiites, the ruling tribe in the region, could celebrate Eid-Milad-al-Nabi 2022 and the festival did not extend to the general public.
The Prophet of Islam was a role model and he always encouraged Muslims to treat people with respect regardless of color, religion, creed and tribe. As a ruler, he has protected the followers of other religions from harm as much as Muslims.